Home > Air-Curtain > Plasma ion curtain
Plasma ion curtain
Effects and characteristics of ion clusters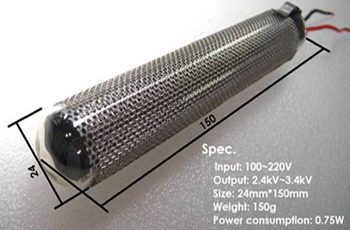 Effects

Ion clusters with excellent ability to remove odors and sterilize germs are added to general air curtain products. It can remove odors and germs at entrances or shoes cabinets or prevent transmission of the flu.
Principle

OH radical ion particles supplied by plasma ion generators can effectively sterilize germs and viruses in the air and remove and dissolve odors.
Comparisons of Filter Types

Most filters operate on a general air cleaning method that absorbs and collects pollutants in the air. Even if you use a very high density filter such as a HEPA filter, you may not expect the removal of volatile organic compounds, bacteria, and so on. Even if you consistently maintain air circulation, you cannot rule out gas type floating pollutants with a filter dust collection method.
Photos and specs of ion curtains
Specification
Model
Size(WxHxD)
Power
Power Consumption(W)
Wind Volume(CBM)
Wind Speed(m/Sec.)
Fan Operation(mm)
Weight(kg)
NA 3509/I1
900X215X230
220V, 60Hz
276~369
15~21
12~17
120
16
NA 3510/I1
1000X215X230
18
NA 3512/I1
1200X215X230
334~476
20~28
18
NA 3515/I1
1500X215X230
443~607
25~36
23